Job title: Media & Communications Executive
Type of position: Full-time
Location: Hanoi
Deadline for application: August 12, 2023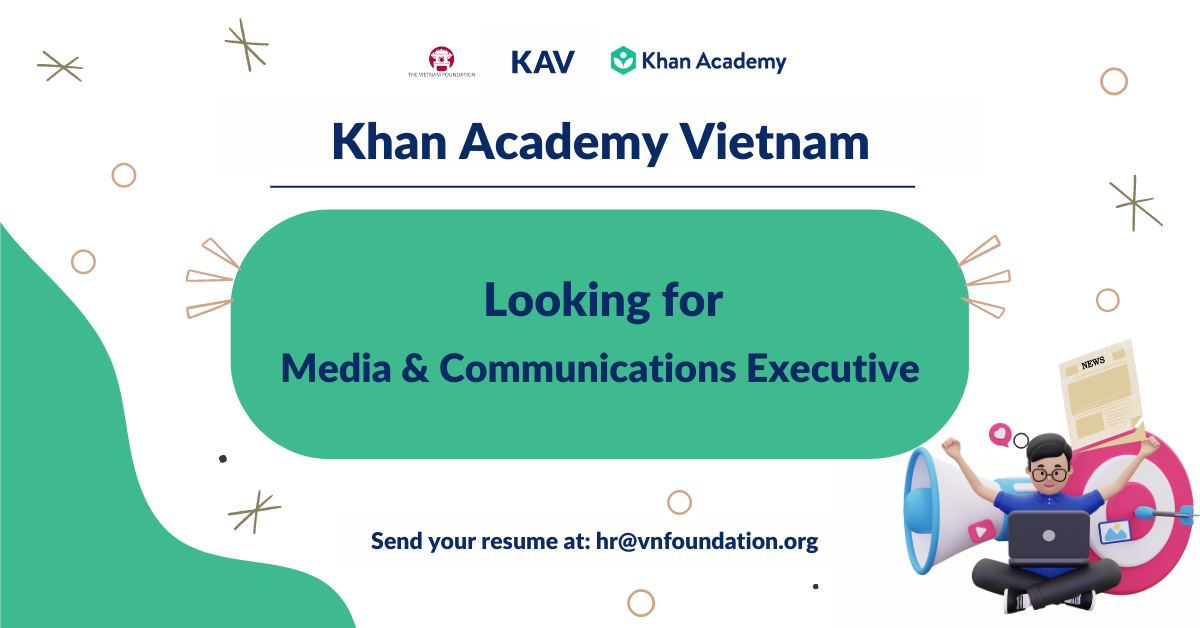 The Vietnam Foundation (VNF) is a non-governmental and non-profit organization established in 2008 in the US dedicated to improving the lives of the Vietnamese people through education. In 2020, VNF officially formed the strategic and exclusive collaboration with Khan Academy, a US non-profit educational organization who is the developer and provider of the world's leading online learning platform to launch Khan Academy Vietnam Program (KAV). By localizing Khan Academy's learning materials into Vietnamese, our objective is to provide Vietnamese students with access to this free and world-class learning platform.
VNF is looking for candidates for the position of Media & Communications Executive at Khan Academy Vietnam, who are passionate about K-12 education and the mission of bringing equal learning opportunities to all Vietnamese students.
Responsibilities and Duties:
Implementing strategic communication campaigns, brand communication, and behavior change communication to promote the benefits of the Khan Academy Vietnam program;
Managing communication channels, both online and offline, editing content and multimedia materials on VNF and KAV's communication channels in Vietnamese and English;
Writing articles on platforms such as press, websites, Facebook, Facebook groups, Zalo, YouTube, TikTok, etc.;
Participating in producing communication materials such as videos, posters, graphics, promotional items, etc.;
Engaging in community outreach activities to encourage e-learning activities on Khan Academy;
Performing other tasks assigned by the Team Leader; directly reporting to the Team Leader;
Ability to travel for short trips to provinces across the country to work with local partners.
Qualifications, skills & experience:
At least a Bachelor's degree in marketing or mass communication or related fields;
At least 1 year of experience in the field of communication or marketing, particularly in Ed-tech or K-12 education;
Proficient in Adobe software (Photoshop, InDesign, Illustrator, and Premiere), with a preference for Canva;
Basic ability to design landing pages, familiarity with WordPress is a plus;
Preferred candidates: Having knowledge of or having interest in the field of education and community engagement;
Excellent communication and writing skills in Vietnamese. Good proficiency in English reading and communication.
Benefits:
Competitive salary (based on skills and experience), with social insurance based on the full salary, 13-month salary;
Career development opportunities: Training and coaching sessions are provided; Working with an international and local network of partners and experts, particularly in the Ed-tech field.
———————————–
Interested applicants shall submit their CV/resume and cover letter to email hr@vnfoundation.org by 5PM August 12, 2023. Applicants are encouraged to submit their application as soon as possible, as this recruitment may be closed after the suitable candidate is found. If you have any questions, please reach out to Ms. Viet Ha (Admin and HR Executive) at hr@vnfoundation.org.