On February 6, a work session between leaders of Quang Ich Technology Group (QIG) and senior leaders of Khan Academy (the world's leading, world-class free online learning platform with 120 million users in 190 countries, donated by Gates Foundation, Google and many large charities) and leaders of The Vietnam Foundation (VNF) took place at the office of QIG. The three parties had summed up, shared implementation results and cooperation experiences in spreading Khan Academy to many users in Vietnam.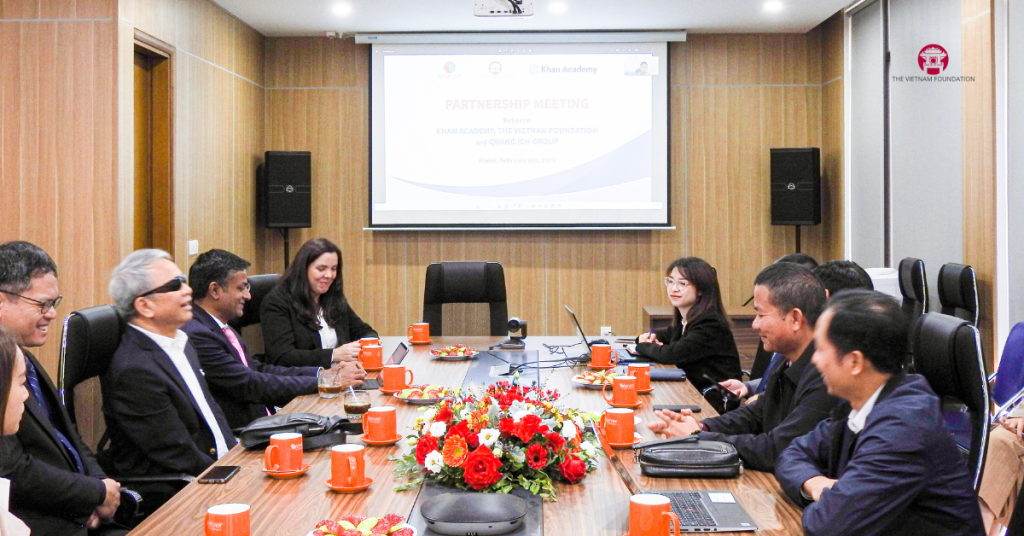 Addressing the meeting, Mr. Sandeep Bapna, Vice President of International Cooperation of Khan Academy, noted that Vietnam has reached 500,000 registered accounts and has become one of the leading nations in terms of registered user growth.
Knowing that QIG has a network of more than 2 million users on the eNetViet App with a background in technology and in-depth experience in utilizing software products in the Vietnamese educational industry, Mr. Sandeep expressed his hope that QIG will continue to be an important partner in spreading Khan Academy further to teachers, parents, and students in Vietnam, helping them access free world-class learning opportunities regardless of their location or financial situation.
According to Mr. Pham Duy Tuyen, director general of Quang Ich Technology Group, "With more than 20 years of involvement with education in Vietnam, and with many users on the App eNetViet, QIG is aware that it is not only an honor but also a responsibility to cooperate with VNF and Khan Academy to spread valuable knowledge and bring a global level to users in Vietnam. That is the mission that QIG is always aiming for".
Also, during the discussion, the parties discussed how to promote Khan Academy as effectively as possible throughout the eNetViet user environment, as well as other potential areas of future collaboration.
Sharing about the experience of spreading Khan Academy in other countries, especially India, where has the largest number of Khan Academy users  other than the U.S., Mr. Sandeep Bapna said: "Teachers in the Indian states employed Khan Academy's e-learning materials to support the classroom teaching process. The classroom curriculum can be supplemented by lectures and classes, which Khan Academy also recommends for teachers. Every month, representatives from Khan Academy will meet with educational managers to summarize the effectiveness of use at each school unit, assisting managers in understanding the genuine benefits that Khan Academy offers".
At the conclusion of the meeting, Mr. Pham Duc Trung Kien who is the president of VNF (the only and official advocate of Khan Academy in Vietnam), expressed his opinion that the cooperation between QIG and Khan Academy will become more substantial and extensive in order to advance toward the Global Conference on Khan Academy, which might take place in Vietnam in the future.