During Vietnam Book Day 2023, Mr. Pham Duc Trung Kien, the President of the non-governmental organization The Vietnam Foundation, emphasized the importance of cultivating a reading culture and self-improvement through books. He highlighted that promoting these activities is crucial and should be encouraged widely.
With the messages "Books: Awareness – Innovation – Creativity" and "Books for me, books for you," Vietnam Book Day 2023 will be celebrated throughout the country with numerous significant events. On this occasion, Mr. Pham Duc Trung Kien, the President of the non-governmental organization The Vietnam Foundation, expressed his thoughts on the importance of reading books and cultivating a reading culture.
Books offer a boundless world of knowledge to explore.
The Vietnam Foundation (VNF) was established in 2008 by Mr. Pham Duc Trung Kien to offer free educational programs to Vietnamese people. These programs include the Vietnam Open Educational Resources (VOER), the Audiobook Library for the visually impaired, and the Khan Academy Vietnam program, which allows millions of Vietnamese students to access free courses through the Khan Academy platform.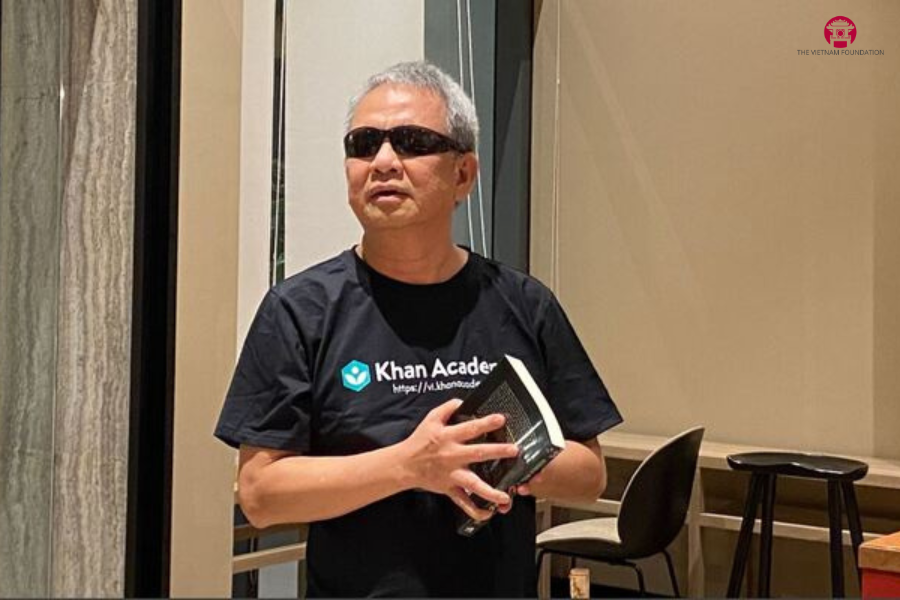 During the meeting with student ambassadors of Khan Academy Vietnam, Mr. Kien gifted them the book "The Rainbow Troops" by Andrea Hirata. In addition, he emphasized the significance of reading books.
Books are a gateway to a world of knowledge. Mr. Kien shared that he always has three types of books on his phone: history books, science books, and romance novels. Since he is visually impaired, he has used audiobooks for the past seven years. While some may view using audiobooks as a limitation, Mr. Kien finds it helpful as he can listen to books while completing other tasks. To him, reading in any form will help people gain knowledge.
In addition, reading books is a great way to reduce stress. After work, he likes to listen to science books on his phone, which helps him put aside problems and work-related issues and immerse himself in the world of science. Before retiring to bed, he enjoys listening to romance novels.
Moreover, books also serve as a bridge for Mr. Kien to connect with his children. At home, Mr. Kien has various types of books. He and his children enjoy reading and discussing the messages the books deliver. He also shared a story about how he read the book "Wonder" by R.J. Palacio after his second daughter recommended it, which gave him a greater understanding of family emotions and resilience in facing challenges.
Mr. Kien emphasizes that maintaining the habit of reading books is very important for young people. Fortunately, there are many reliable book-reading applications and online sources available today. However, to maintain this habit, Mr. Kien recommends that young people establish a daily reading routine whenever they have free time. Taking notes and jotting down the main ideas to retain crucial knowledge is essential when reading. Reading books can help young people learn and explore the vast world and improve their self-learning ability, language skills, writing skills, and critical thinking.
In addition, Mr. Kien also encourages young people to create communities to promote and exchange the practice of reading books. Building a community involves connecting with like-minded friends and allows young people to share the knowledge they have gained through reading with a broader audience.
The inspiration to implement many community programs
Understanding the importance of books, the reading culture, and self-education, Mr. Pham Duc Trung Kien has implemented many meaningful programs for the community, such as Vietnam Open Educational Resources (VOER) or Audiobook Library for the visually impaired.
Vietnam Open Educational Resources, also known as VOER, is an  educational resource created by Vietnamese people for Vietnamese people. VOER offers 22,280 materials and 525 collections contributed by 13,484 authors. Users can download textbooks in PDF format to read offline or print them out as physical books.
Since no copyright fees are involved, the cost of printing books is low, making it affordable for most students or people with low incomes. VOER has a wide range of content available to students and readers nationwide. The library includes books and documents on diverse topics such as history, philosophy, science, economics, marketing, information technology, literature, and arts.
VOER is an open educational resource that can be accessed by users worldwide, not just Vietnamese people. Aside from collaborating with universities worldwide to gather updated and high-quality materials for users in Vietnam, VOER also aims to promote Vietnamese history, literature, and culture to the global community.
Besides VOER, Mr. Pham Duc Trung Kien and other philanthropists established an audiobook library specifically for the visually impaired. This initiative provides not only rich learning resources, but also scholarships and laptops for visually impaired students to facilitate self-study and improve their lives.
Mr. Pham Duc Trung Kien's primary goal in implementing these programs is to encourage Vietnamese students to adopt a spirit of active learning. He believes students can benefit from various learning methods, including reading books and documents and using online platforms like Khan Academy. However, according to Mr.Kien, the most important factor is for students to recognize the value of self-improvement through learning.