This February, Masscom Vietnam Joint Stock Company (Masscom) met  with the delegation of Khan Academy and The Vietnam Foundation (VNF) – the official advocate of Khan Academy in Vietnam. Khan Academy is a non-profit organization that aims to provide a free, world-class education for anyone, anywhere. Khan Academy provides a free website and educational app with thousands of educational videos covering math, science, art history, and other subjects.
Affirming the role of Khan Academy in benefiting Masscom's user ecosystem, Mr. Dinh Trung Duc, Director of the Education Solutions Business Center, welcomely announced that Masscom was the first unit to discuss future cooperation with Khan Academy to increase Khan Academy's presence in Vietnam. 
During the first official visit to Vietnam, the senior delegation of Khan Academy met with Masscom. As one of KAVA Alliance members (Khan Academy Vietnam Alliance), Masscom agreed on the similarities between the two parties: utilizing technology to impact society positively, said Mr. Dinh Trung Duc. Masscom is willing to promote the use of trusted, standards-aligned practice and lessons on the Khan Academy platform to Vietnamese Teachers & Students as Masscom users in general. 
Mr. Sandeep Bapna, Khan Academy's Vice President of International Cooperation, elaborated on the purpose of this visit to Vietnam. According to Mr. Sandeep, Vietnam is currently a bright spot on the world map of Khan Academy advocates.  The number of Vietnamese users skyrocketed in the last six  months of 2022, and the growth rate of users registering and using this e-learning platform has now surpassed the mark of 500,000.
Based on the success of Khan Academy in such countries as India, Brazil, and Peru, Khan Academy's delegation, together with the Khan Academy Tieng Viet team and Masscom Leaders, have actively exchanged past experiences to spread Khan Academy among Masscom's users and benefit them effectively.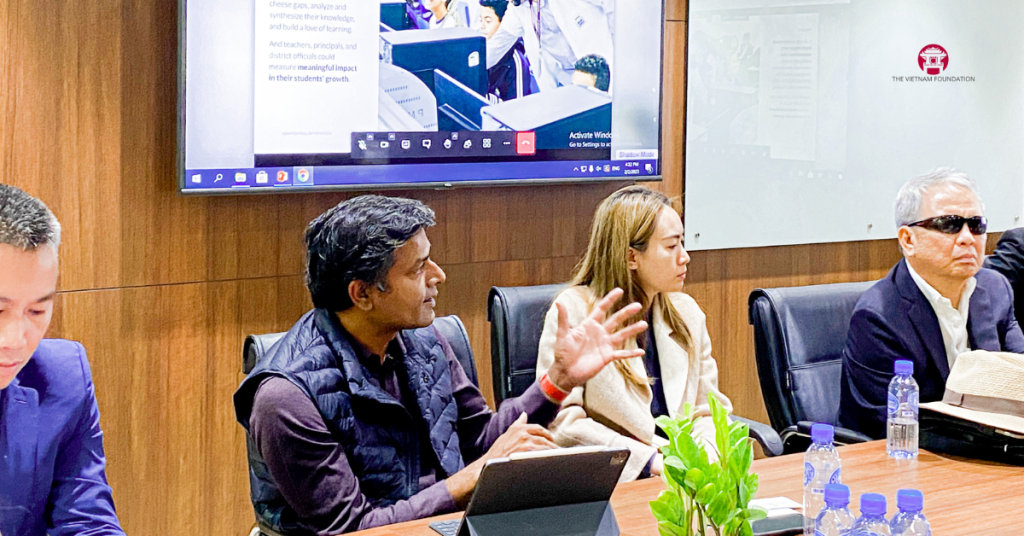 As a technology enterprise providing educational products, Masscom thoroughly understands the difficulties teachers face in adapting to new technology. Masscom representatives emphasized  the role of schools and teachers in promoting the use of Khan Academy – the free online learning platform. Masscom pledged to officially introduce Khan Academy through their network – schools and teachers who can use their smart devices to directly deliver lessons to students on Khan Academy and give instructions on how to use the platform. To achieve this, all parties will continue working closely together to organize training sessions for teachers and schools under the Masscom user ecosystem.
At the end of the meeting, Mr. Pham Duc Trung Kien, VNF President, expressed his expectation for  the upcoming cooperative activities in 2023 among Masscom, VNF, and Khan Academy Tieng Viet.
——————————————————————–
Masscom Vietnam Joint Stock Company was established in November 2010 and operates in the telecommunications technology sector. Masscom is a leading technology corporation in Vietnam with technology-based products for those who have difficulty accessing technology due to its high cost and problem in use. Masstel – the mobile phone brand and Massko – the innovative home appliance brand, are  popular with Vietnamese consumers.
Since December 2020, Masscom Vietnam Joint Stock Company has officially become one of the members of the KAVA Alliance (Khan Academy Vietnam Alliance) – established by The Vietnam Foundation to mobilize  cooperation of such organizations who are interested in the education development for schools, teachers, parents and students in Vietnam.