The Vietnam Foundation (VNF) and Quang Ich Software Joint Stock Company (QIG) signed a Memorandum of Understanding to join the Khan Academy Vietnam Alliance (KAVA). With the desire to provide a free, world-class education to schools, parents and students across the country, VNF and QIG discussed and reached an agreement on cooperation to spread the benefits of Khan Academy Tieng Viet online learning platform, contributing to the development of education in Vietnam, as well as educational activities in general.
On November 28, 2022, the Khan Academy program was integrated into eNetViet -the application of educational communication and executive management, giving Vietnamese students, parents and teachers access to the greatest library of free learning content in the world.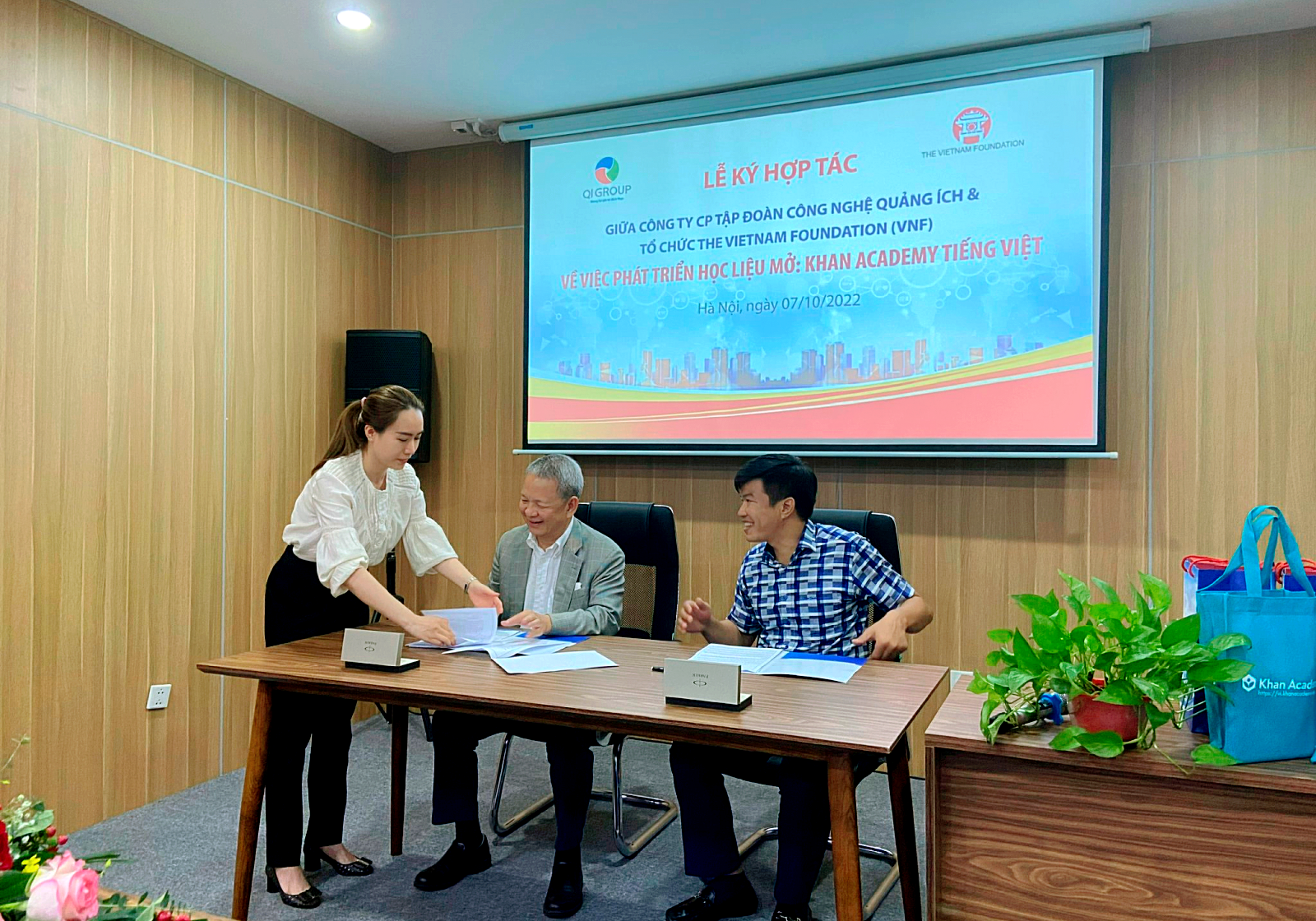 Photo: Representative of VNF – Mr. Pham Duc Trung Kien and representative of QIG – Mr. Pham Duy Tuyen signed the MoU to join KAVA
Khan Academy is the world's leading free online learning platform with more than 120 million users in 190 countries, supported financially by the Gates Foundation, Google and many well-known philanthropic organizations. The Vietnam Foundation is the only official representative of Khan Academy in Vietnam to deploy the Khan Academy Tieng Viet program.
Mr. Pham Duc Trung Kien, President of The Vietnam Foundation, shared the vision and expectation for the cooperation between VNF and QIG, which is actively spreading the opportunities of equal learning, and accessing free, world-class, lifelong learning materials to 22 million Vietnamese students.
Photo: Mr. Pham Duc Trung Kien spoke at the signing of the MoU to join KAVA.
"With the passion of a team with 20 years of companionship and contribution to the education in Vietnam, QIG appreciates and is honored to accompany the noble mission of VNF and President Pham Duc Trung Kien." Mr. Pham Duy Tuyen, QIG's General Director, also expressed his wishes for this cooperation, such as having an introduction page and user manual for Khan Academy in Vietnamese, and links to KATV's learning materials on Super App eNetViet, as well as suitable apps and websites in QIG's ecosystem, in order to effectively spread the awareness about Khan Academy Tieng Viet to schools, teachers, parents, and students.
Photo: Khan Academy on SuperApp eNetViet
QIG specializes in providing solutions and software products in the field of preschool and general education in Vietnam. Currently, QIG's products have been deployed to over 18,000 schools in major cities and provinces, as well as many partner companies. eNetViet is a communication application developed by QIG, aimed at connecting Families and Schools, supporting the administration of Departments of Education and Training at province and district levels, the School Board of Directors, and professional work of teachers in schools.
The integration of the Khan Academy Tieng Viet (KATV) program into eNetViet software will help bring this valuable learning resource closer to teachers, parents, and students, for the common goal of improving the quality of education in Vietnam through the power of technology.
——————————————————————–